Last Updated on 10-6-05
Updated: Quotes, Fiction, Ninja Office, Phreekshow promo page, Nerdvana
Teak Bench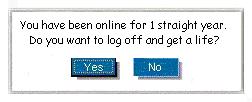 more art like this in Nerdvana
This is my site, I am Raziel. This site will contain approximately whatever I feel like putting here. If you do not like what I have to say, use the back button on your browser, I trust you know where it is.
Still here? Good. Sit back and prepare to be dragged (kicking and screaming preferably) through a nightmare trip through my subconscious. You might want to hold on to something.
this isn't a porn site, if you want porn, click

here.